Spectrophotometer Calibration Workshop
This course covers the calibration of benchtop spectrophotometers, including wavelength accuracy, photometric accuracy and stray light characterisation. It is highly interactive and includes hands-on sessions to develop practical skills.

The spectrophotometer has become the workhorse for high-throughout routine testing for a wide variety of analytes in chemical and biochemical analysis laboratories. While the reliability of these instruments is high, routine calibration and characterisation of spectrophotometers is vital for ongoing confidence and reduction of risk in decisions made on the basis of results of measurements.
The course provides a mix of principle and practice with guidelines for designing calibrations and measurements, including lists of things that go wrong, and the tips and tricks for recognising problems. The emphasis is on ensuring that you can apply the knowledge in your own workplace.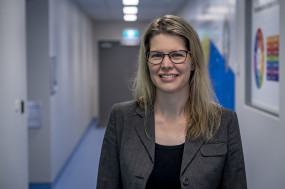 Annette Koo
Director and Chief Metrologist | Management
Annette completed a physics PhD through Victoria University in 2005 and then spent 3 years in Melbourne as a postdoctoral fellow at CSIRO and then at Monash University doing research into catalysts for solar hydrogen generation.
In 2008 she started at MSL as a research scientist, developing expertise in the measurement of light and human perception, including design of MSL's robot-based goniospectrophotometer and piloting the CCPR comparison of spectral transmittance.
Since late 2021 Annette has been the Chief Metrologist for MSL. The Chief Metrologist is a verifying authority for measurement standards under the National Standards Regulations 1976 in relation to the verification and reverification of any standard or standards of measurement. The main duty of the role is to ensure the integrity of the measurement system in New Zealand. In practice, the Chief Metrologist needs to be satisfied that measurement results provided by MSL are traceable to the SI (the International System of Units) and that measurements carried out in NZ by IANZ accredited laboratories, can be traceable to the SI by relying on verified measurement results supplied by MSL.
The Course is Suitable For:
Any personnel who use or check spectrophotometers as a part of laboratory testing, plant installation, or monitoring and maintenance tasks. Staff involved in laboratory accreditation and QA programmes will find it especially useful.
General Programme and Learning Outcomes:
The course focuses on the calibration of benchtop spectrophotometers. Topics include:
Use and handling of neutral density filters
Use and handling of wavelength calibration filters
Wavelength and photometric accuracy calibration of spectrophotometers
Stray light characterisation of spectrophotometers
Uncertainty of measurement
Traceability and quality control
Course Qualification:
Students will receive a course attendance certificate.

To be scheduled
Lower Hutt
MacDiarmid Centre, Callaghan Innovation
69 Gracefield Road, Gracefield
Lower Hutt
Free Parking

Approximately 45 minute drive from Wellington Airport, 30 minutes from Wellington CBD
Course Times
Welcome tea and coffee
This course commences at 9:00am sharp and expected to end by 2pm.
Catering
Catering includes Morning Tea and Lunch. Please indicate dietary requirements on the registration form.