Measurement, Uncertainty and Calibration Workshop
This course gives a broad high-level overview of measurement and calibration principles, and calculation of uncertainty. The course is designed for experienced technical staff making, reporting, designing, or auditing measurements. It is especially useful for staff involved in testing and calibration.

Measurements are the basis of all commercial decisions influencing quality, plant operation, and product sale and purchase.
Measurement traceability ensures integrity of measurement results, and that the results will be understood by other people.
Uncertainty in measurement enables an assessment of the risk, the likelihood of making poor decisions based on the measurement.
Calibration is the process that ensures measuring instruments are accurate and reliable.
By the end of the day you should be able to design a complete technical procedure for a calibration or other measurement, including a complete uncertainty analysis.
The standard fee is $1,020 for each of the first two attendees from an organisation and $714 for each additional attendee.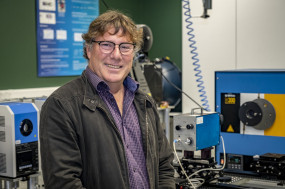 Peter Saunders
Distinguished Scientist | Temperature and Humidity
Peter has been working at MSL since 1993 in the area of radiation thermometry, carrying out research in both metrological radiation thermometry and industrial applications. He has worked as a visiting researcher for eight months at IMGC (now INRiM) in Italy, where he investigated the application of CCD cameras to radiation thermometry.
Peter has published more than 70 papers and articles on radiation-thermometry-related topics, and is author of the book Radiation Thermometry: Fundamentals and Applications in the Petrochemical Industry. He won the NZ Royal Society Cooper Medal in 2004 for research he carried out in understanding the physical basis of equations used in the calibration of radiation thermometers. He represents New Zealand on the CIPM's Consultative Committee for Thermometry (CCT) is an active member of the CCT Working Group on Non-Contact Thermometry.
Scientific highlights for Peter include work on: the size-of-source effect in radiation thermometers, the measurement of non-linearity using a combinatorial technique, analysis of a double-wavelength technique for measuring thermodynamic temperature, calibration equations for radiation thermometers and uncertainty propagation, and reflection errors in industrial radiation thermometry.
Peter is a technical expert for many IANZ accredited thermometry laboratories in New Zealand.
The Course is Suitable For
Anyone making or designing measurements, but especially designed for staff operating under ISO 17025: General Requirements for the Competence of Testing and Calibration Laboratories.
General Programme and Learning Outcomes
Topics include:
Definitions of measurements
Reporting measurements and measurement scales
Making sense of measurements
Traceability
Type A and Type B uncertainty assessments
Combining and propagating uncertainty
Calibration and measurement capability
Calibration principles
Design of technical procedures
Calibration reports
The SI system
The day will finish with a joint calibration exercise that will show how all of the topics relate to the design and execution of a technical procedure.
Course Qualification:
Students will receive a course attendance certificate.

To be scheduled
Auckland
JetPark Hotel & Conference Centre
63 Westney Road
Mangere
Auckland 2022
Parking available
Approximately 8 minutes drive from Auckland Airport
Course Times
Welcome tea and coffee
All courses commence at 9:00am sharp. All courses are expected to end by 5:00pm unless otherwise noted in the registration page.
Catering
Catering includes Morning Tea, Lunch and Afternoon Tea. Please indicate dietary requirements on the registration form.