Humidity and Moisture Calibration Workshop
This practical one-day course will introduce you to humidity generation, calibration and measurement, along with the conceptual framework for understanding the various limitations in humidity measurements.

Humidity is often a critical measurement. For example, in the export of food there is an increasing risk of products being rejected or spoilt through inadequate humidity control during storage or transit. Humidity is the second most important parameter, after temperature, to be considered in the product cycle. Poor humidity control can lead to poor quality, poor shelf life or weight loss, as well as poor energy usage.
The standard fee is $1,020 for each of the first two attendees from an organisation and $714 for each additional attendee.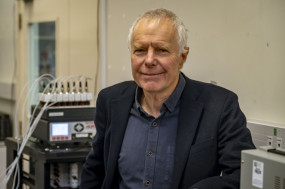 Jeremy Lovell-Smith
Principal Research Scientist | Temperature and Humidity
Jeremy was brought into the Measurement Standards Laboratory in 1997 to establish the national humidity standard and quickly developed links with industry and other research organisations with a survey of NZ needs, and with his peers in other national humidity laboratories, through a survey of their calibration laboratories and practice. With the help of his colleague Ross Mason, Jeremy opened MSL's humidity laboratory in 2000 and since then the laboratory has provided NZ and overseas users with state-of-the-art humidity calibrations over a wide range of humidity and temperature, ensuring where possible that the performance of the instrument under calibration is tested under the full range of conditions under use. Since 2002, Jeremy and Ross have provided numerous humidity training workshops in the main centres.
Following his attendance at the 3rd International Symposium for Humidity and Moisture (1998) in London, Jeremy has been active in the international humidity community through conference presentations, journal publications, membership of international committees (of CIPM.CCT, APMP.T and IAPWS), and international collaborations. He was technical co-chair (humidity and moisture) for the Joint ISHM-TEMPMEKO 2010 conference in Slovenia and guest editor for the International Journal of Thermophysics. He is a co-founder of the New Zealand Association for the Properties of Water and Steam (NZAPWS), and is a member of the SCOR/IAPSO/IAPWS Joint Committee on Seawater.
Jeremy has been a technical expert for several IANZ accredited laboratories in New Zealand and for NMIs in the Asia-Pacific region.
The Course is Suitable For:
The course is relevant to any personnel who use or check relative humidity, dew point or other hygrometers as part of laboratory testing, plant installation or monitoring and maintenance tasks. Staff involved in laboratory accreditation and QA programmes will find it especially useful.
Course Qualification:
Students will receive a course attendance certificate.
General Programme and Learning Outcomes:
The course focuses on the use, care and calibration of thermometers. Topics include:
Humidity concepts and definitions
Methods of humidity measurement
Selection and use of hygrometers
Humidity generation and standards
Calibration and traceability
Recommended practices

To be scheduled
Auckland
JetPark Hotel & Conference Centre
63 Westney Road
Mangere
Auckland 2022
Parking available
Approximately 8 minutes drive from Auckland Airport
Course Times
Welcome tea and coffee
All courses commence at 9:00am sharp. All courses are expected to end by 5:00pm unless otherwise noted in the registration page.
Catering
Catering includes Morning Tea, Lunch and Afternoon Tea. Please indicate dietary requirements on the registration form.