Revising the SI - news, updates and events
Event | 26 September 2018
In the lead up to World Metrology Day 2019 the MSL team will be delivering and partnering on several events to help communicate the importance and impact of the SI revision - we hope you can join us!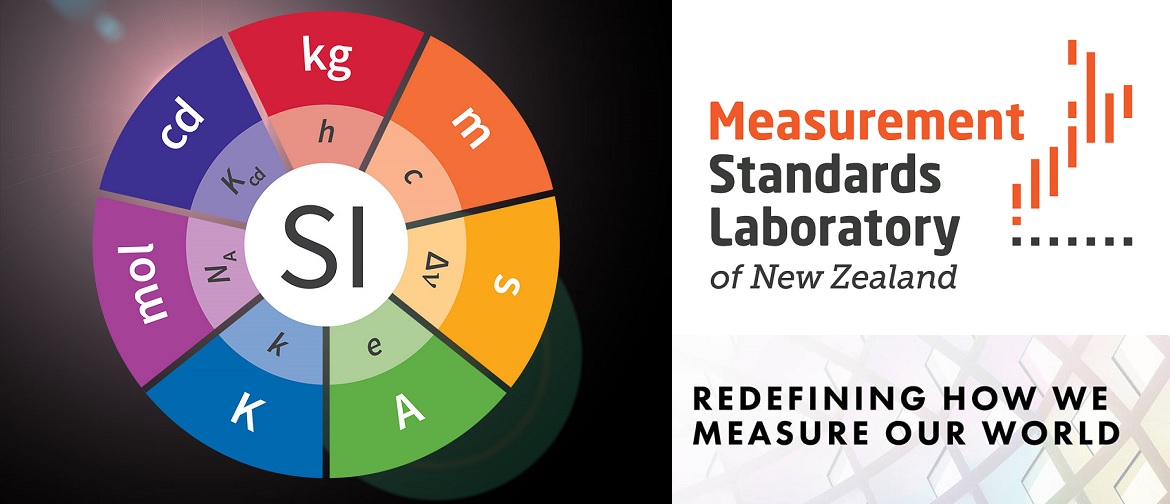 REGISTER NOW - Regional Roadshows (click below)
MSL is taking measurement to the regions with a series of free public events in our main centres for measurement testing laboratories, industry, innovators and the public.  We'll share the latest information and impact the changes to the SI will have on businesses both here, and around the globe. We will also have some exciting speakers and displays that you should not miss.
Enter the competition - We are running a competition for the duration of our Roadshows to see how far a Commonwealth Gold Medalist can throw our 1 kilogram standard.  Prizes are up for grabs so check out the video and competition details here.
Events will be held in partnership with the Metrology Society of Australasia, Dodd-Walls Centre and our Regional Business Partners. 
Programmes for our Dunedin [PDF, 144 KB], Christchurch [PDF, 147 KB] and Hamilton [PDF, 134 KB] events are available now.
Location
Venue
 
Date
Time
Dunedin

[PDF, 144 KB]

Otago Museum, 

419 Great King St

Register  Now

(external link)

Thursday 21 March
3:00 - 6:00pm
Christchurch

[PDF, 147 KB]

Ministry of Business, Innovation and Employment, 161 Cashel Street
Register  Now

(external link)

Thursday 28 March
2:30 - 5:30pm
Hamilton

[PDF, 134 KB]

Waikato Innovation Park, 

9 Melody Lane, Hamilton East

Register  Now

(external link)

Thursday 4 April
2:30 - 5:30pm
Auckland
Unleash Space, Faculty of Engineering Building, Auckland University
 
Thursday 9 May
10:00 - 5:30pm
Wellington
Callaghan Innovation, 69 Gracefield Road, Lower Hutt
 
Monday 20 May
10:00 - 5.30pm
International System of Units Redefinition, 2019
The International System of Units, known as the SI, is the globally-agreed basis for expressing measurements at all levels of precision, and in all areas of science, technology, and human endeavour.
The SI is presently made up of seven base quantities that each correspond to a universally-recognised unit.
The SI will undergo a major revision in May 2019 that will be implemented by the international measurement community. This global change involves moving away from material artefacts (e.g. the kilogram prototype in Paris), and instead employing a set of seven defining constants, from which all units can be derived.
The Measurement Standards Laboratory is the primary agency responsible for implementing the new SI definitions into New Zealand. Adopting the definitions will allow NZ to remain consistent with international best practice and allow precision measurement to be available to everyone.
Four of the base units – the kilogram, ampere, kelvin, and mole – will be redefined based on fixed numerical values of the Planck constant (h), the elementary charge (e), the Boltzmann constant (k), and the Avogadro constant (NA), respectively. The three remaining base units – the second, metre and candela – are already defined by physical constants, so it will only be necessary to edit their present definitions.
Why do we need the SI?
For fair domestic and international trade, so when you buy or sell a quantity of something you and your customers know what you are getting without being cheated or surprised.
So that things made in different places, countries, or even factories across the street will fit and work together.
To provide a common basis to communicate measurements in science, engineering, health, safety and the public good.
Want to know more?
You can download a handy factsheet on the changes here [PDF, 373 KB] [PDF, 382 KB].
And read more about each of the measurement units here.
Or read our case study 'Quantum Balancing Act for the SI'
Other Coming Events
15 - 17 April 2019 - New Zealand Institute of Physics Conference
Hosted at Canterbury University, this is your chance to dig deeper into the world of physics with workshops, demonstrations, posters and exciting Plenary speakers.  MSL staff will be part of the programme which is still in development. Find out more on their conference website(external link).
---
 20 May 2019 - World Metrology Day
World Metrology Day is an annual celebration to mark the signing of the Metre Convention on the 20th May 1875, which set the framework for global collaboration in the science of measurement. 
In May 2019, the historic change will take place, and we will finally see all the SI base units (International System of Units), such as the kilogram and the kelvin, referenced to a fundamental constant, as opposed to a physical artefact.
This is the final event of the regional roadshow. We will be celebrating World Metrology Day in Wellington on Monday 20th May with an exciting programme of events planned.  Save the date and more information will be provided early in 2019.
---
20 - 26 May 2019 - Techweek19
This is New Zealand's annual festival of innovation with a theme of 'innovation that's good for the world'. Techweek18 was huge, with 540 events running in 24 locations across the country. Thousands of New Zealanders got involved in workshops, discussion and talks so expect more in 2019.  The programme for 2019 is being developed but keep an eye on the Techweek website(external link) for more information to come.
---
20 - 24 May 2019 - IEEE International Instrumentation & Measurement Technology Conference
The IEEE I2MTC is the flagship conference of the IEEE Instrumentation and Measurement Society, and is dedicated to advances in measurement methodologies, measurement systems, instrumentation, and sensors in all areas of science and technology. Hosted at the Grand Millennium Hotel in Auckland this is another conference where MSL staff will have a big presence running workshops, presentations and sponsoring International speaker Michael De Podesta from NPL in the UK. Find out more on the conference website(external link).