Geometric Dimensioning and Tolerancing Workshop
This course explores the fundamentals of geometric dimensioning and tolerancing and explains the symbols, modifiers, rules, and concepts of GD&T based on the ASME Y14.5-2018 Standard. The course is useful for anyone who creates or interprets engineering drawings, and participants are encouraged to bring along their own GD&T conundrums!

GD&T is a language used to communicate design intent from the part designer to the supplier and the inspector. It's vital that everyone involved has the same understanding in order to manufacture parts that are fit for purpose.
Poor GD&T implementation can result in parts that are functional but rejected at inspection and conversely parts accepted at inspection that do not fit at assembly!
Good GD&T understanding should mean full part interchangeability, reduced time for the design-manufacture-inspection process and lower overall costs.
This course provides a basic understanding of the concepts and leads into workshopping several real world examples to see the course material come to life.
Update: This training course is currently on hold and we will send a notification once training is available again in 2024. Please enquire to be added to the course waitlist.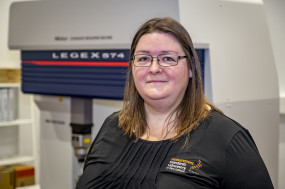 Lenice Evergreen
Research Engineer | Length
Lenice started work in a dimensional metrology lab to "help out" during the holidays . . . and 23 years later is still completely engrossed in the subject. As well as calibrating length standards and measuring instruments, Lenice has worked on a wide range of measurement projects. She analysed vegemite jar lids to enable a 30% reduction in production time and mapped the hull shape of an America's Cup yacht. She modelled the tail panel and light surrounds for a 1968 GTX Plymouth show car when original parts were no longer available, and measured the electromagnet pole profiles for several synchrotron storage rings. Lenice has developed and presented training workshops in CMM measurement and GD&T, and loves teaching people all aspects of dimensional metrology.
The course is suitable for:
Everyone who creates and interprets engineering drawings and for those involved in design review, manufacturing process selection, quality control and specification conformance.
Course Qualification:
Students will receive a course attendance certificate.
General Programme and Learning Outcomes:
The course assumes participants ability to read a basic engineering drawing. Topics include:
Types of Dimensions and Tolerances
Rules and Concepts of GD&T
Datum Systems
Understanding the 14 Symbols
Interpreting Feature Control Frames
Tips and tricks for Inspection
Decoding the GD&T on your own drawings
The last session of the day will involve a class exercise to draw together the concepts of the day and complete a real world scenario.

To be scheduled
Auckland
JetPark Hotel & Conference Centre
63 Westney Road
Mangere
Auckland 2022
Parking available
Approximately 8 minutes drive from Auckland Airport
Course Times
Welcome tea and coffee
All courses commence at 9:00am sharp. All courses are expected to end by 5:00pm unless otherwise noted in the registration page.
Catering
Catering includes Morning Tea, Lunch and Afternoon Tea. Please indicate dietary requirements on the registration form.