World Metrology Day 2023 Event
Event | 19 May 2023
The Measurement Standards Laboratory (MSL) warmly invites you to the annual World Metrology Day celebration on Friday 19 May 2023 at Gracefield Innovation Quarter, Lower Hutt.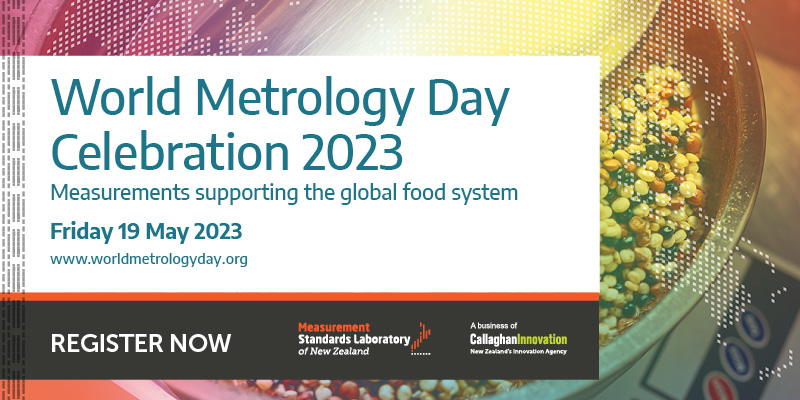 Presenting the programme and it's not too late to...
This is a wonderful opportunity to build connections and hear from an exciting range of speakers.
It is also an opportunity to visit some of MSL's laboratories, and there will be a feature tour of Callaghan Innovation's FoodScreener Nuclear Magnetic Resonance Laboratory(external link). The event will end with the Metrology Society of Australasia (MSA) networking hour.
The theme of World Metrology Day(external link) for 2023 is measurements supporting the global food system. There are many ways that metrology is involved in the production, safety, and supply of food all around the world. Metrology can help to address challenges posed by climate change and by a world whose population reached 8 billion at the end of 2022.
View BIPM Director, Dr Martin Milton's message for WMD 2023 here(external link).
We invite you to join us in person for the day, including lunch, the tours and the networking hour, or virtually for the presentations. The event is free but spaces may be limited on site, so please register now to confirm your place.
Preliminary Programme
From 9:30 am

Registrations㇑Meet and Greet㇑Morning Tea

10:00 am

Welcome

Annette Koo; Director and Chief Metrologist – Measurement Standards Laboratory of NZ

10:25 am

The role of our conformance infrastructure in lowering technical barriers to food trade

Trade and International Team(external link); Ministry of Business, Innovation & Employment

10:50 am

Measurement in the food industry – Trading Standards

Phil Sorrell; Manager Compliance and Enforcement – Trading Standards, Market Integrity – Ministry of Business, Innovation & Employment

11:15 am

How measurements affect decisions in dairy food production

Carl Jenkin; Senior Laboratory Project Technician – Fonterra Co-operative Limited

11:40 am

Practical challenges to effective measurement in the horticulture supply chains – imports and exports

Anne-Marie Arts; Managing Director – The AgriChain Centre

12:05 pm

MSA Announcements, commitments and priorities

Cynthia Lendrum; Secretary – Metrology Society of Australasia

12:15 pm
Lunch
1:00 pm

Food metrology activities at NMI Australia

Raluca lavetz; CRV Manager – National Measurement Institute, Australia

1:25 pm

Infrared thermometry in the food industry

Peter Saunders; Distinguished Scientist – Measurement Standards Laboratory of NZ

1:50 pm

Food packaging

Lenice Evergreen; Research Engineer – Measurement Standards Laboratory of NZ

2:15 pm

Verifying food label claims using nuclear magnetic resonance spectroscopy

Andrew Lewis; Team Leader Lipids and Natural Products – Callaghan Innovation

2:40 pm
Afternoon tea
2:50 pm

MSL laboratory tours will include:

FoodScreener Nuclear Magnetic Resonance Lab㇑Electrical Lab㇑Temperature Lab㇑Coordinate Measurement Facility

4:30 pm

MSA networking hour

5:30 pm
Event ends